Categories
Accommodation
Community Services
Parish Council
Arts, Crafts & Music
Farmers' Market
Post Office
Charities and Benevolent
Fire Service
Pubs, Restaurants
Takeaways
Childcare
Healthcare
Schools, Pre-schools
Church and Chapel
Help Lines
Tourist information
Clubs and Societies
Library
100th Anniversary WWI Armistice Day Parade – 11.11.18
President Major D Hood MC and the statue of Private Archie Gomm (Ox & Bucks) take the salute
Commander R Forsyth RN (Ret'd) orders 'eyes right' leading the Parade
Standard Bearer: Sergeant M Hollingworth Right Escort: Mr N West Left Escort: Mr J Greenwood 

More photos of Armistice day 2018 can be found by clicking on the image above 

President:

Major D.G. Hood MC (Ret'd)

Chairman
Commander R.S. Forsyth RN (Ret'd)
Secretary
Mr Tony Lowe. For contact details please refer to the

 

DIRECTORY
Charitable status: The Branch shares the registered charity status of the national Royal British Legion whose number is 219279.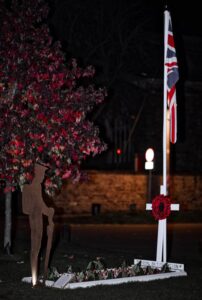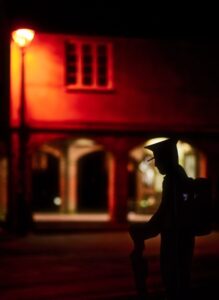 11 November 2021
                                                     Private Archie Gomm stands guard on his arms reversed
Historical notes:
The Branch was formed in 1925 when it occupied the former Red Hand Club on the east side of High Street just near to the Tchure in which it operated its social club. The Club closed on 30 September 2017. Falling membership and the cost of extensive repairs needed on the building meant that the Branch was no longer able to maintain its building. The proceeds from the sale were passed to the Parish Council as required by the Deed of Trust by right of which the Branch occupied the building.
The history of the building from 1730 onwards can be found here
The British Legion became The Royal British Legion on 10 September 1971 upon the granting of a Royal Charter.
The names of those Deddington men and women who have died for their country in both World Wars and later conflicts, and who are remembered on our War Memorial and elsewhere, can be found on this website via the link  History/A Parish at War. The names of those who served in the Armed Forces, The Home Guard, Royal Observer Corps, The Women's Land Army and Timber Corps and the Emergency Services are all recorded and some of their stories told.
Past Branch Presidents 
Captain Lavender (??)-1955 
Lt Col A D Taylor DSO MC 1955-1985 
Mr Walter Hirons 1985-1990 
Mr Arthur Lewis 1990-1999 
Mr John Spencer 1999-2001
Mr Norman West 2001-2008 
Major David G Hood MC 2008-current