.
Welcome to the Parish of Deddington, Oxfordshire
Welcome to the new DOL – we hope you like it. If you spot any errors or have problem navigating, please email

  On the edge of the Cotswolds is the Parish of Deddington, Clifton and Hempton. Easily accessible from the M40, it's ideal for a cultural visit, shopping or sports – Oxford, Stratford, Blenheim Palace, Bicester Village and Silverstone are all within easy reach.
With its picturesque honey-coloured houses, history dating from Saxon times, plenty of social activity, a thriving business community and places to stay, it's a great place to live, work or visit.
What's Happening Now

The 2020 Deddington Calendar is on sale at the Library, Nellie & Dove, and the Farmers' Market
A4: £10.00, desktop size: £7.50
A new (pre-Deddington Grange) aerial picture  of Deddington is now available. Price £47 framed
Contact Robert Hall, 07752 408235. Please mention Deddington Online when ordering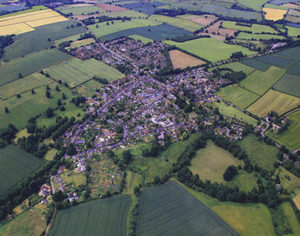 A new Deddington Sustainability Group has been formed. Contact Matt Pumfrey or Nick Smith for more details.
Take a 360 degree view of the village below
Click below to browse the latest and previous versions of Deddington News as well as find out about advertising.