Oxfordshire Fire and Rescue Service (OFRS)
OFRS is part of Oxfordshire County Council's Community Safety Directorate, Oxfordshire Fire and Rescue Service (OFRS)
DEDDINGTON FIRE STATION
Station Area and Call Outs
Deddington Station's immediate area is 120 square miles, from the Rousham Gap in the south, to Adderbury in the north, and from Baynards Green across to the A361 Chipping Norton Road. In addition the crew regularly provides back-up support to Banbury and Bicester stations, and occasionally further afield when there is a major incident, such as extensive flooding.
Retained Duty System Firefighters – On Call Professionals
Deddington Fire Station is crewed by firefighters on the Retained Duty System (RDS). They carry alerters, activated by a control centre near Reading.
RECRUITMENT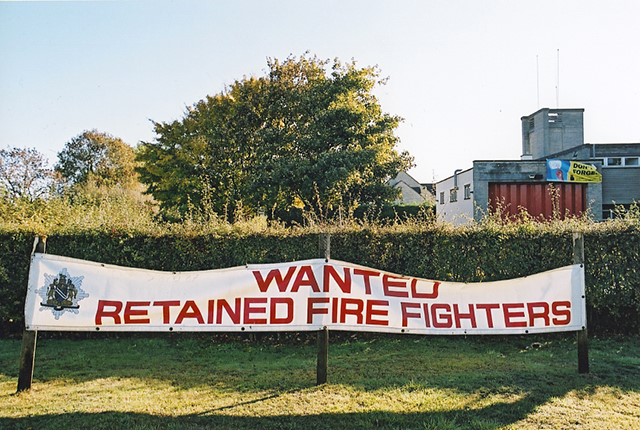 Several members of the crew at Deddington are self-employed. The job of an RDS firefighter can fit in well for people working from home or running their own business. Being a firefighter provides the opportunity to experience a whole new environment, to mix with other people, to be part of a team and to learn new skills, as well as earning additional income. If you are interested in joining us, come up to the Station on a Tuesday evening between 7 and 9pm and speak to our crew. Deddington was proud to be the first station in Oxfordshire to have a woman firefighter, and now Oxfordshire has an increasing number of women firefighters.
Community Fire Safety
The crew arrange an annual family barbecue and camp at a temporary campsite in Clifton, in addition to various Quiz Nights, Race Nights and family days. Deddington's firefighters are very much part of village life, frequently giving up their own time to attend fetes, family days and supporting local initiatives. They are active fundraisers for local and national charities, such as Children in Need and the Firefighters' Charity; and our charity car wash day is always popular.
For a history of the Fire Service click here

Local contact details can be found in the DIRECTORY