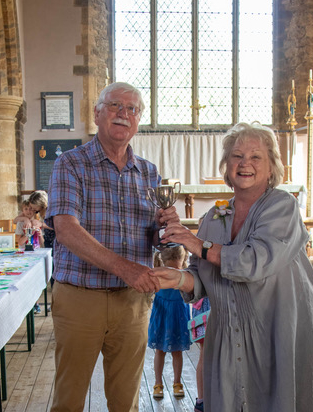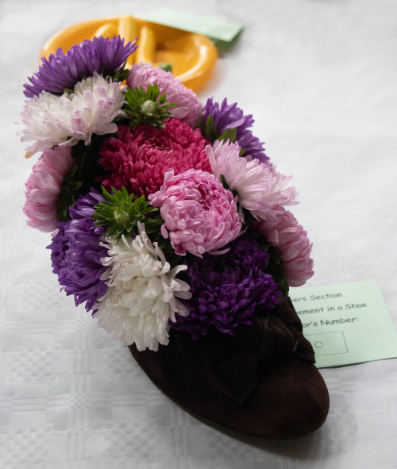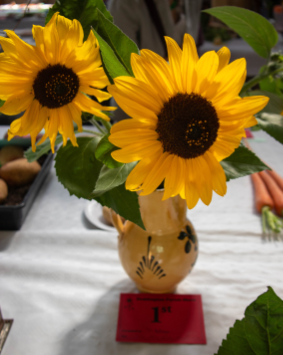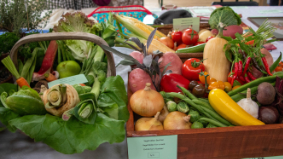 The 2023 Parish Show took place in the Church on 2 September. The Committee was pleased at the number of entries, not only in our gardeners' and cooks', but in the artistic, creative classes – art, crafts and photography. Although sparse in the number, the children's exhibits were of a high standard and much admired.
The Committee was delighted at the support of this event from the village who came to look and admire, and to enjoy the teas and stalls. We would like to thank all our helpers, furniture movers, stewards, tea teams, runners and of course our judges. We are very thankful to our sponsors and local businesses for providing our raffle prizes.
We are pleased to report that we achieved our highest profits so far, and show profits will be donated to local causes.
Winners of trophies:
Welford Cups for Cookery: Winner Anne Bishop, 2 V Moyes, 3 Lesley Nelson
Marianne Elsley Cup for Flowers: Winner Melanie Warren, 2 Lesley Nelson, 3 Sue Ayles
Oliver Hawes Cup for Vegetables: Winner Stan Nelson, 2 Andy Wheeler, 3 Brian Palmer
SS Peter & Paul Cup for Fruit: Winner Stan Nelson, 2 Wendy Burrows, 3 Sarah Liebrecht
John Cheney Art Cup: Winner Stephen Waterman, 2 Ken Wilkinson, 3 Sue King
Stella Marmion Craft Cup: Winner Adele Sullivan, 2 Janet Macey 3 Peggy Howarth
Farmers' Market Cup for Photography: Winner Charles Hodge, 2 Melanie Warren, 3 Kate Petty
Show Champion Gardeners' Cup: Winner Stan Nelson, 2 Andy Wheeler, 3 Anne Bishop
Children's Trophies:
5 years & under: Winner Emily Harvey, 2 Isalind Hallgrimsdittir-White, 3 Lilly Dowling
6–8 years: Winner Lillian Baldwyn, 2 Elliott Warren, 3 Thea Francis
9–11 years: Winners Francesca & Edward Erikse
Show Champion Maureen Forsyth Cup: Winner Emily Harvey, 2 Lillian Baldwyn, 3 Elliott Warren
Parish Show Committee                                    
For contact details, see the DIRECTORY
A history of the show is here